Target Industries
---
The Ideal Landing Site for Aviation, Distribution, and Advanced Manufacturing.
Is your company involved in distribution and logistics? Advanced manufacturing? Need a back office location for a call center or financial research? You'll love Charlotte County's skilled workforce of 240,000+ in easy commuting distance.
Aviation Support
Experts predict that one million-plus new aviation jobs will open up the coming years. Now, many of these new hires will earn their wings in Charlotte County, thanks to a new Airframe and Powerplant Mechanics Training program at Charlotte Technical College at the Punta Gorda Airport. Charlotte County is the ideal location for aviation support firms, with prime airport sites and buildings available.
Distribution and Logistics
The U.S. Chamber of Commerce ranks Florida #2 in state infrastructure. So Charlotte County lands you in the middle of one of the world's best transportation networks. Need seaports? There are five major ports within an easy, half day drive – and that includes the nearby Port of Manatee for direct passage to the enhanced Panama Canal. Choose from five international airports in the same easy driving distance. What's more, you'll find five convenient exits off interstate I-75 in Charlotte County.
Advanced Manufacturing
Many experts say the finest training for advanced manufacturing is A&P mechanic training (Airframe and Powerplant for aviation). With a full curriculum coming to Charlotte Technical College, Charlotte County will be leading the way with a new generation of workers offering incredible skill sets for advanced manufacturing firms. The county is also investing in basic manufacturing training that can be easily upskilled. Looking for zoned, inexpensive land? Low local taxes? Ten-year exemptions? A top flight state tax structure? It's all here.
Business and Financial Services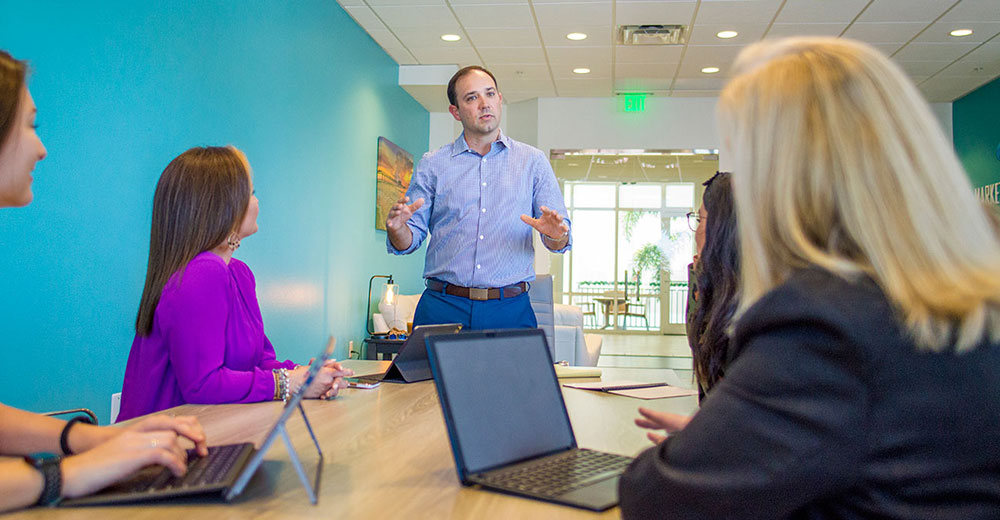 Home to the corporate headquarters of more than 60 major U.S. retailing and restaurant chains, 17 Fortune 500 companies and 2.5 million small businesses, Florida is a major force in business and financial services, attracting the nation's third-largest cluster of insurance and banking companies, including some of the world's biggest names. In Charlotte County, your operation is ideally positioned to swim with Florida's "big fish" or service the smaller companies, even as you enjoy all the benefits of Florida's inviting business climate, like lower taxes and less regulation, plus Charlotte County's even lower average costs: 10% below the Florida average. And here in Charlotte County's paradise location, the pipeline for savvy talent is always flowing. Come soak up the sun—and the profits.